Yesterday was a good day.
The morning was spent rehearsing for an "instant harang" at the College of Home Economics (it was their Foundation Day), along with Ma'am Gemma Malicdem on piano and Sir Nathan Manimtim on guitar. We performed three "happy" songs: Ano Kaya Ang Kapalaran by Francisco Santiago, Ang Maya by Jose Estrella, and the immortal favorite, Sa Kabukiran by Manuel Velez. :) The harang went pretty well! We got fed (the merienda was delicious, no surprise there! H.E. pa naman... lemongrass tea rocks!) AND we got paid, wahoo! Extra pocket money!
From the gig, I rushed to EEE for a lecture by Dr. de Ungria: TO I.D. OR NOT TO I.D., THAT IS THE QUESTION. She talked about DNA and how the DNA testing done by her team is contributing to better Philippine society.
A most interesting talk! I also won a free t-shirt for answering the question: "What was the nature of one of the most important cases in Philippine jurisprudence, wherein DNA was used for the first time as evidence in the SC?"
Answer: "People vs. Vallejo, 2002: The rape/homicide of a 9 year old girl"
It's a white polo shirt several sizes too large for me. This is the design at the back: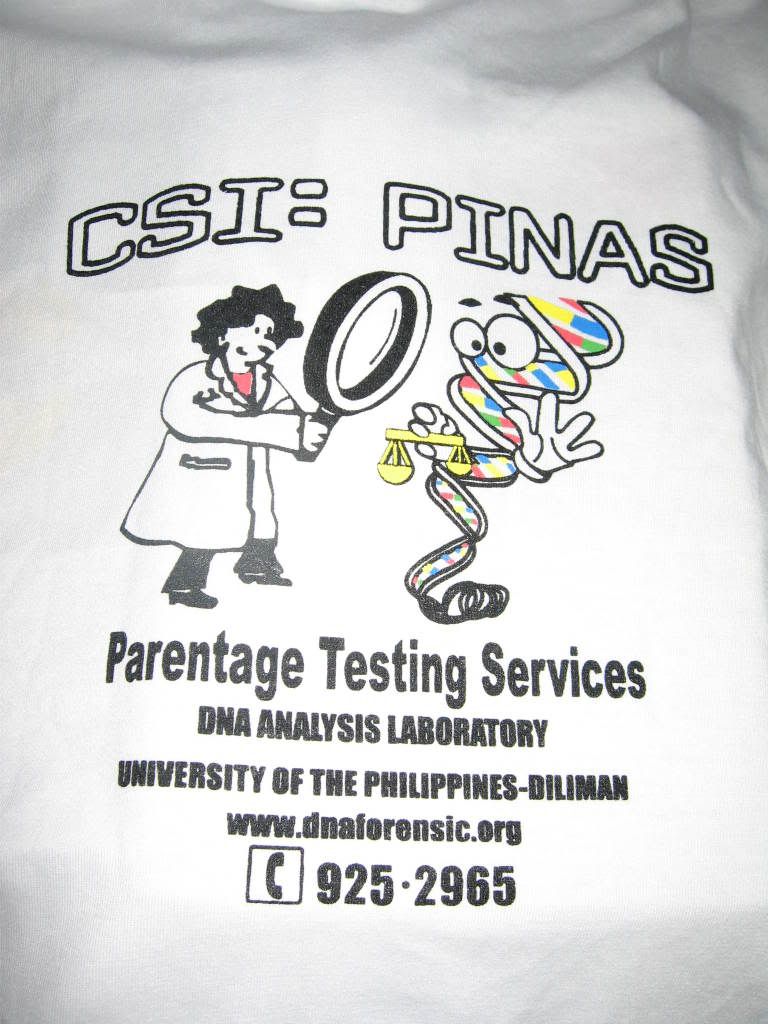 CSI PINAS! Now there's an idea for a new tv series!
After the lecture, I spent the afternoon rehearsing my major pieces and going over LP's.
I rushed home, had an early dinner, then left with my parents to watch LE CONCERT CLASSIQUE: featuring tenor Sal Malaki and soprano Rachelle Gerodias, as well as the RSVP Ensemble. Concert review to follow! It was a wonderful performance. :)
Woke up with a horrible cold (I hope it doesn't turn into a cough) and a slight fever... probably thanks to the dratted aircon inside the Meralco Theater last night (it was near subzero, I tell you! I was already wearing a cardigan and yet I was freezing to death... even with my rather-generous protective layer of blubber).